[box]
Algonquin
Ages: 14-17
Length: 7 days
Location: Petawawa River, Algonquin Park, ON
[/box]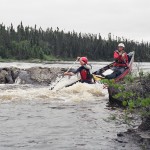 This trip is for teens who can only take a short break from their busy summer activities. Come join us if you love fast-paced fun! We spend 7 days whitewater canoeing on the Petawawa River in Algonquin Park. Loads of excitement on a stunningly beautiful river!
Some say the Petawawa is the birthplace of whitewater canoeing in Canada and here's your chance to become part of the tradition! Our trip starts at Cedar Lake, from here we travel through the heart of Algonquin Park, past lots of spectacular waterfalls and faun rapids, of which include; the Crooked Chute, and the heart-racing Rollway rapids.
We make a point of camping at the Natch, a set of rapids under magnificent 30 meter cliffs adorned with rare ferns. The Natch is an historic Native Canadian gathering place to celebrate nature's summer bounty. From here the river is truly a whitewater playground where most of the rapids are "run-able" and portages are rare.
PaddleFoot Guides follow a thorough teaching progression adapting their lessons to the skill level of the group. Extra time is taken at the beginning of the trip to gain confidence and skill in paddling strokes and whitewater manoeuvres. PaddleFoot Guides ensure safety systems are in place for every element of the program.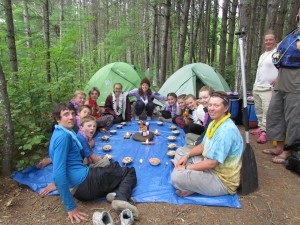 At the campsite after a day on the river, there is time for other activities: crafts, swimming, steaming in a sauna, nature interpretation, games, or playing under a waterfall. Trippers also have the opportunity to hone their campsite living skills as each day the group works together to setup and takedown camp, build fires, and cook delicious meals.
After the week is over, you will leave with a sense of accomplishment, an appreciation for the natural world, new friendships and great memories!