[box]
Explorers
Age: 16-18
Location: One of Canada's premiere whitewater rivers
Length: 35 days
**Please note this program is not running this season, HOWEVER if you have a large enough group in the age group, we can run this trip at a time that works best for all parties – please call our office for details*
[/box]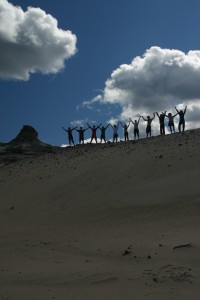 PaddleFoot Explorers participate in a 35-day extended wilderness canoe expedition on one of Canada's spectacular remote rivers. This rewarding voyage is designed for young adults who love to live the life of a wilderness traveler and have some camping experience. A spirit of adventure and an ability to live for 35 days with only what you can carry in your pack is essential.
Some of the amazing rivers that PaddleFoot Explorers have traveled in the past include the:
Bloodvein River, in Northeastern Manitoba
Rupert River in Northern Quebec
Pontax River Northern Quebec
Moisie River in Labrador and Quebec
Broadback River in Northern Quebec
Harricana River in Northern Ontario
Attawapiskat River in Northwestern Ontario
Albany River in Northwestern Ontario
What these rivers have in common, is a long drive to a remote drop off and then a spectacular journey through one of Canada's least traveled waterways. Each of these rivers has historical significance and allows us to retrace the steps of the early Canadians – Hudson Bay Company out posts, thousand year old campsites, and ancient pictographs are all historic spots to investigate. Moose are a friendly sight and whispering northern lights dance throughout the night. We develop and perfect our whitewater tripping skills as we make our way through and around the many rapids, waterfalls and portages of these magnificent rivers. We learn that with effort comes a feeling of success as we meet the challenges of this intense journey!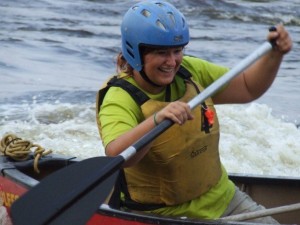 The length of this trip allows participants to become competent whitewater paddlers and experienced campers. The group spends the first few days setting up routines and re-learning the skills needed to live comfortably in the outdoors and travel safely down the river. PaddleFoot Guides gear their instruction to the level of the group and build on their skills from past experience. From paddling manoeuvres, to fire-building, to cooking, to navigation, each tripper has the time to perfect these skills and become a master! This is also a great opportunity to develop less tangible skills like decision-making, goal-setting and leadership as the group must problem-solve and meet the challenges of living and playing together 24/7!
Everyone takes part in all aspects of trip life, so we pay a lot of attention to cooperation and communication. Daily debriefings provide a forum to discuss trip and interpersonal issues in a supportive environment. Guides are skilled team builders and with at least 3 guides to 10 trippers, everyone gets the attention they need.
Come with us and explore Canada's spectacular waterways, enjoy the sound of fast water, sleep under the stars, smell the forest after a rainfall. PaddleFoot trips are about close friends, campfires, adventure and challenge but most of all fun!