[box]
Kayak School
Age: 14-17
Location: Ottawa valley
Length: 7 days
[/box]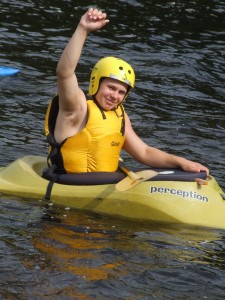 This program is a great introduction to the popular world of kayaking in a friendly and controlled environment. Spend a week with us and you will learn the skills you need to feel comfortable in these awesome boats designed for fun!
The first 3 days of this program are spent base-camping at a single set of rapids on one of the many Ottawa Valley rivers. Here the group spends time becoming acquainted with the art of whitewater paddling; first on flatwater, followed by the rapids located at base camp, and ultimately running the rapid from source to mouth, participants spend most of the day in their kayaks, getting comfortable and gaining confidence under the watchful eye of our instructors. The basics of whitewater kayaking are taught through a series of games and lessons aimed at making learning fun. These skills include: directional strokes, power strokes, re-righting (rolling), rescue & emergency procedures and boating safety. With a high instructor to guide ratio, there is lots of time for one on one help and attention, making it easy for kayakers of all skill levels to participate in this program.
After the group has completed skills training, we head down river to take advantage of 4 days of practice whitewater. The trip is supported by a raft, which carries the group's gear and food leaving the kayakers free to paddle and play their way down the river. The Ottawa Valley is regarded as one of the finest beginner kayaking areas in Canada. Easy whitewater combined with a swift current make rivers like the Noire, Petawawa, and Madawaska perfect for a first time kayaking experience. Most of the narrow, deep channeled rapids are run-able – those that aren't, allow us to learn the fine art of portaging a kayak! Along the way PaddleFoot Guides lead a variety of activities including whitewater games, wave surfing, play boating workshops, and more! The Guides ensure safety systems are in place for every element of the program.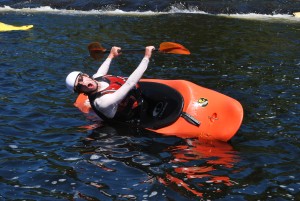 After a day of kayaking, the group sets up camp at one of the valley's picturesque campsites. Once settled in there is time for other activities: crafts, swimming, steaming in a sauna, nature interpretation, games, or playing under a waterfall. Trippers also have the opportunity to hone their campsite living skills as each day the group works together to organize the campsite, build fires, and cook delicious meals.
This trip is for young people who crave excitement and enjoy the thrills and spills of trying something new! Join us for a week of fun and friendship and you will leave with a new skill under your belt and memories to last a lifetime!