[box]
Leave No Trace
[/box]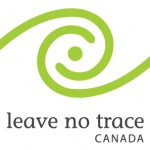 Designed for outdoors enthusiasts and professionals alike, the Leave No Trace program is built to help people make good decisions about their impact on our planet. LNT teaches us how to minimize our footprint in the backcountry and the front country. Whether you are a hiker, paddler, family camper, or an backcountry guide, these courses will help you built the decision-making skills you need to reduce your impact on the environment.
The LNT program is based on the following 7 principles:
Plan ahead and Prepare
Travel and Camp on Durable Surfaces
Dispose of Waste Properly
Leave What You Find
Minimize Campfire Impacts
Respect Wildlife
Be Considerate of Others
PaddleFoot and WSS are proud to be authorized providers for Leave No Trace Canada. Each of our courses offer the opportunity to push further your knowledge of the understanding of your impact in the backcountry and at the Trainer and Master Educator Level to teach it while leading out in the backcountry.
[box]
| | | |
| --- | --- | --- |
| | Join us for one day at the PaddleFoot basecamp to get a chance to learn about the role and functions of Leave No Trace Canada! | [button link="registernow"] Register![/button] |
[/box]
[box]
| | | |
| --- | --- | --- |
| |  Join us for a weekend at the PaddleFoot basecamp for an enriching weekend of learning with your peers. | [button link="registernow"] Register![/button] |
[/box]
[box]
| | | |
| --- | --- | --- |
| | This 5-day course is designed to challenge you through various environments so you have the chance to practice different skills learned and to explore various aspects of the Leave No Trace program. | [button link="registernow"] Register![/button] |
[/box]